Stopain® Clinical 360˚ Continuous Spray
Safer, effective alternative to oral pain relief medications (Opioids and NSAIDs)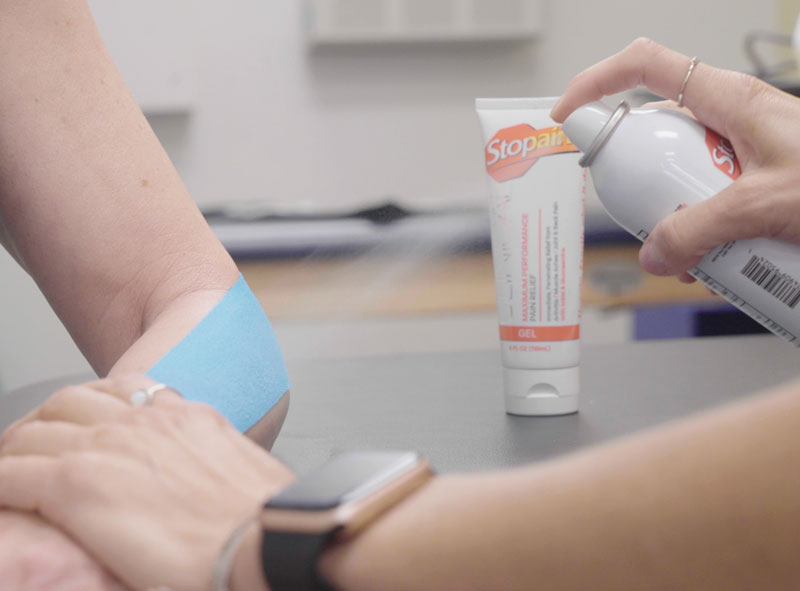 Stopain® Clinical 360° continuous spray delivers pain relief right where you need it—with no rubbing required! Works quickly to provide fast, temporary relief of everyday arthritis, muscle, and back pain. Get the proven pain-relieving benefits of 10% menthol, plus dimethylsulfone (MSM) and glucosamine to support joint health and mobility.
360˚ Continuous Spray

Stopain® Clinical 360° continuous spray delivers pain relief right where you need it with no rubbing required!
Works at any angle
Perfect for hard to reach areas
Great with kinesiology tape
Works on contact
Keeps hands clean
Easy to use
Non-greasy and non-staining
Pharmacist recommended
How healthcare professionals are using Stopain® Clinical Continuous Spray
I often recommend Stopain Clinical Spray for my clients that have a hard time reaching the area where pain relief is needed. It is also my go-to method of application when using kinesiology tape with a client. I spray a little around and over top of the tape and to extend the pain relief experience.
Teresa Matthews
LMT, CPT, BCTMB
Stopain® Clinical 360˚ Spray
10% Menthol Matters!
Menthol is backed by evidence and experience. With Stopain Clinical's 10% Menthol concentration and penetration enhancers you will not find a better topical pain relief solution.
MEDICINAL INGREDIENTS
Menthol (dl-Menthol): 4%, Menthol (l-Menthol): 6%
NON-MEDICINAL INGREDIENTS
Boswellia serrata extract, diazolidinyl urea, dimethylsulfone (MSM), eucalyptus essential oil, glucosamine sulfate, glycerin, macrogol 8000, methylparaben, monobasic potassium phosphate, PEG-8 dimethicone, pentylene glycol, peppermint oil, polysorbate 80, propylene glycol, propylparaben, purified water, SD alcohol 39C
USES:
Temporarily relieves aches and pains of muscles and joints associated with one or more of the following: simple backache, lumbago, strains and sprains (involving muscles, tendons and/or ligaments), and arthritis.
DIRECTIONS:
For external use only. Application should be supervised by an adult. Apply directly onto affected area up to 3-4 times per day without the need to rub or massage. Avoid contact with the eyes and mucous membranes. Do not apply to wounds or damaged skin. Do not apply with external heat, such as electric heating pad, as this may result in excessive skin irritation or skin burn. Do not tightly bandage. Do not inhale.
CAUTIONS and WARNINGS:
Call a Poison Control Center immediately if overdose or accidental ingestion occurs. Consult a healthcare practitioner prior to use if you are pregnant or breastfeeding. Keep out of reach of children. Stop use and consult a health care practitioner if symptoms worsen, or re-occur within a few days.
KNOWN ADVERSE REACTIONS:
Stop use and get medical help right away if you experience pain, swelling or blistering. Stop use if hypersensitivity/allergy, rashes and/or burning discomfort occur.
ADDITIONAL INFORMATION:
Flammable. Do not use in the presence of open flame or spark. Contents under pressure. Do not place in hot water or near radiators, stoves or other sources of heat. Do not puncture or incinerate container or store at temperatures over 50°C.
Sign Up for Updates & Exclusive Offers
Stay informed of the latest product news, educational content, informative videos and webinars, and exclusive promotions.