Stopain® Clinical Massaging Roll-On
Safer, effective alternative to oral pain relief medications (Opioids and NSAIDs)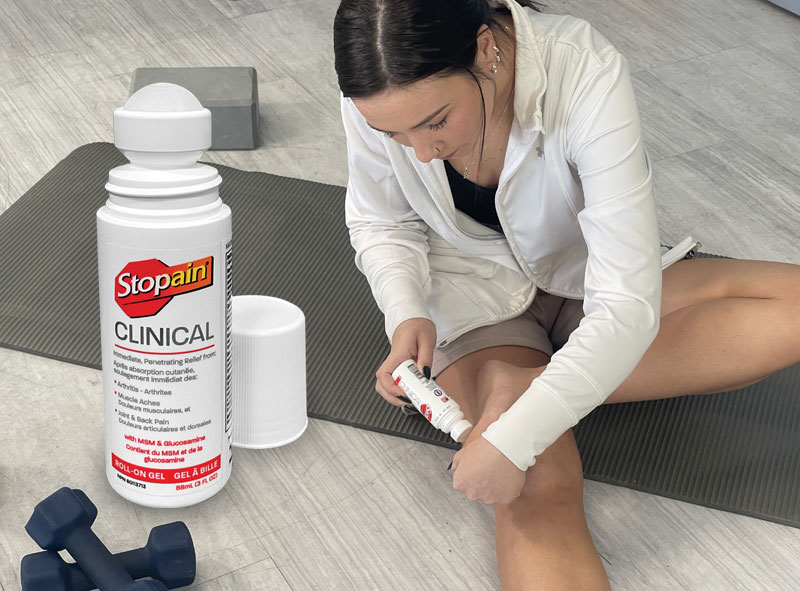 Stopain® Clinical Roll-On provides a hands-free soothing applicator ideal for self-massage. The fast-acting formula delivers fast, temporary relief from minor muscle and joint aches and pains associated with simple backache, arthritis, strains, bruises, and sprains. Formulated with the proven pain-relieving benefits of menthol (10%), it also contains dimethylsulfone (MSM) and glucosamine to support joint health and mobility.
Massaging Roll-On

Stopain® Clinical Roll-On provides a hands-free soothing applicator ideal for self-massage.
Hands-free application
Add pressure while applying to massage sore muscles
Easy on-the-go pain relief
Works on contact
Keeps hands clean
Easy to use
Non-greasy and non-staining
Pharmacist recommended
How healthcare professionals are using Stopain® Clinical Roll-On
We pride ourselves on utilizing cutting edge evidence-based techniques and treatments, and educating our patients on their diagnosis and course of care. I put Stopain Clinical to the test and was completely impressed with the formulation. The Roll-On layers in nicely with instruments and the Spray works well over top of kinesiology tape. Most importantly, my patients love it
Greg Doerr
DC, CCSP Bergen Chiropractic / FAKTR
Stopain® Clinical Roll-On
10% Menthol Matters!
Menthol is backed by evidence and experience. With Stopain Clinical's 10% Menthol concentration and penetration enhancers you will not find a better topical pain relief solution.
MEDICINAL INGREDIENTS
Menthol (dl-Menthol): 4%, Menthol (l-Menthol): 6%
NON-MEDICINAL INGREDIENTS
Boswellia serrata extract, carbomer, diazolidinul urea, dimethylsulfone (MSM), eucaluptus essintial oil, glucosamine sulfate, glycerin, macrogol 8000, methylparaben, purified water, SC alcohol 39C, triethanolamine
USES:
Temporarily relieves aches and pains of muscles and joints associated with one or more of the following: simple backache, lumbago, strains and sprains (involving muscles, tendons and/or ligaments), and arthritis.
DIRECTIONS:
Adults and Children over 12 years: For external use only. Application should be supervised by an adult. Apply thinly and evenly to affected area up to 3-4 times per day. Rub and/or massage into skin until solution vanishes. Avoid contact with the eyes and mucous membranes. Do not apply to wounds or damaged skin. Do not apply with external heat, such as electric heating pad, as this may result in excessive skin irritation or skin burn. Do not tightly bandage.
CAUTIONS and WARNINGS:
Call a Poison Control Center immediately if overdose or accidental ingestion occurs. Consult a healthcare practitioner prior to use if you are pregnant or breastfeeding. Keep out of reach of children. Stop use and consult a health care practitioner if symptoms worsen, or re-occur within a few days.
KNOWN ADVERSE REACTIONS:
Stop use and get medical help right away if you experience pain, swelling or blistering. Stop use if hypersensitivity/allergy, rashes and/or burning discomfort occur.
ADDITIONAL INFORMATION:
Flammable. Do not use near a flame. Store at room temperature.
Sign Up for Updates & Exclusive Offers
Stay informed of the latest product news, educational content, informative videos and webinars, and exclusive promotions.